Here we will tell the story of the beginnings of our church and how we became what we are today.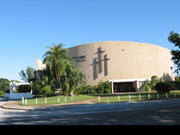 Holy Family Parish was founded on November 14th, 1959. The first masses were offered in the Red Feathers Farm in North Miami. Ground-breaking for the first Church took place on February 11th, 1950 - the feast of Our Lady of Lourdes. Construction was entirely by voluntary help of about 20 parishioners under the supervision of James Lynch. The first Mass was celebrated in the nearly-finished building on July 30th of that year. In November of that same year, Archbishop Hurley of St. Augustine Diocese gave the Church its official name - "The Church of the Holy Family" and Msgr. Rowan T. Rastatter was named its first pastor. Fr. Tom Larkin (now Bishop of St. Petersburg) was named its first assistant pastor in February, 1951.
The area continued to grow so rapidly that Archbishop Hurley started the building of a school and a convent, with the ground-breaking for the school on January 7, 1951 and for the convent a year later.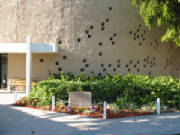 Msgr. Ronbert Scheifen was named Holy Family's second pastor under whose supervision a new Church was begun in 1965. It was to be the first Church constructed in line with the new directives of Vatican II. The first Mass was celebrated in the not yet fully completed Church on Christmas Eve 1966. On May 21, 1967 Archbishop Coleman Carroll dedicated the new Church and the old Church became Holy Family's Parish Hall.
During its early history, Holy Family covered what is now St. James Parish, St. Mary Magdalen Parish, St. Lawrence Parish, Visitation Parish and Holy Redeemer Parish. Today Holy Family has approximately 1150 families and continues to meet the changing face and new challenges of North Dade. Its history has been one of dedication and sacrifice from its early pioneers to today's loyal stewards. The parishioners have truly been a "family" of caring and sharing as they nurtured the growth of the Catholic Faith in this part of the Lord's Vineyard.
Each family and member have played their part in building up the Body of Christ either as a Cornerstone, a Pillar, or a mere Pebble.